It has been a long wait for the fans of "White Collar." The previous season ended on an explosive cliffhanger and fans were anxiously waiting to see the after-effects of the "White Collar" Season 4 finale.
USA Network has finally released a sneak peek of "White Collar" Season 5, providing a glimpse of the premiere episode and the major characters. Peter Burke (Tim DeKay) is no longer wearing his drab suit but is in orange, the colour of the prisoners.
"White Collar" Season 5 sneak peek suggests that Peter's innocence cannot be proved, without Neal Caffrey's (Matt Bomer) father (Treat Williams) confession. And, that is not going to happen. Neal's father is the one who killed the senator and created circumstances that put Peter under-arrest for the murder of the senator. In the finale of "White Collar" Season 4, Neal's father said "somebody always takes the fall," and walked off.
Neal feels it is his fault that Peter has landed behind bars. Peter's wife Elizabeth (Tiffani Thiessen) can be seen telling Neal, "to do whatever you've to do." This takes him to his former nemesis and "White Collar" pilot episode's notorious forger, Curtis Hagen (Mark Sheppard).
In the sneak peek of "White Collar" Season 5, Curtis Hagen tells Neal, "I know how to make Peter Burke a free man."
The key to open this way is going to come at a cost, and it is a devil's pact. The sneak peek suggests that since it is the only option to ensure Peter's freedom, Mozzie (Willie Garson) takes off Neal's anklet so that FBI does not know about his whereabouts. He is all set to commit something that is not inside the boundary of law. It looks like he lands himself in a trap and is ready to cut all strings. It is going to get messy before it is calm, again.
"White Collar" Season 5 Sneak Peek Video [Source: WhiteCollaronUSA/Youtube.com]
There is something missing in the sneak peek, and that is Neal's fedora. There is no glimpse of him wearing it. Neal Caffrey minus his fedora does not look like the street-smart con-man, with loads of oomph factor. We love Neal with his Fedora. How about you?
"White Collar" Twitter page twitted this picture: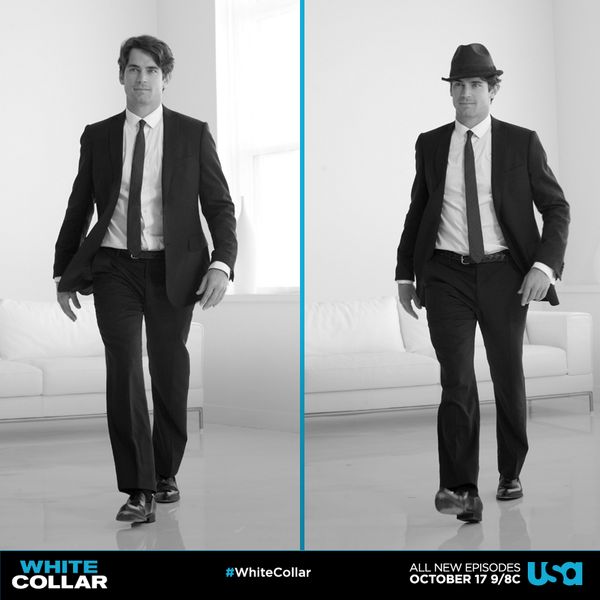 "White Collar" Season 5 premiers Thursday, October 17, 2013.
To contact the editor, e-mail:
Close
(Photo: Facebook/MattBomerforChristian / )