The Big Bang Theory Season 7 returns on Thursday, September 26, with a special one-hour premiere episode. The first episode of the new season will have lots of Penny-Sheldon moments as Leonard (Johnny Galecki) is away at North Sea for four months.
"Sheldon and Penny share intimate secrets while Leonard is away at sea, on a special one-hour seventh season premiere of THE BIG BANG THEORY Thursday," according to CBS.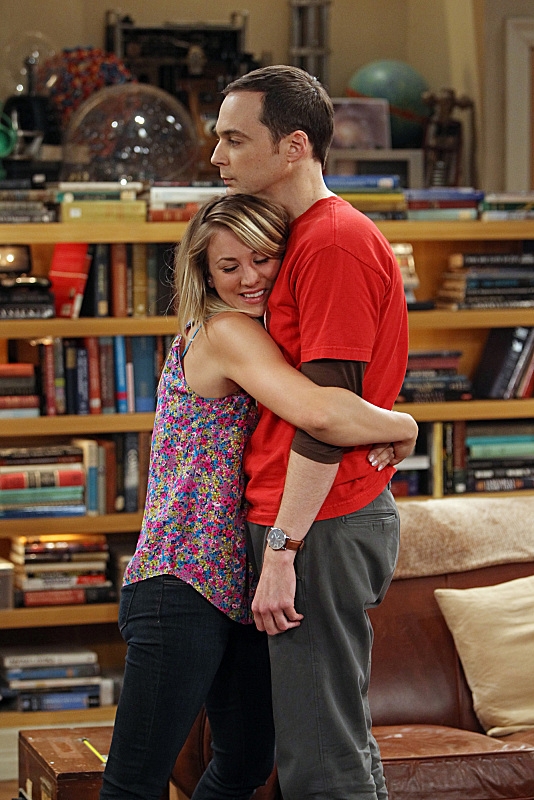 Sheldon (Jim Parsons) and Penny (Kaley Cuoco) have their unique bond. They care for each other, without making it too obvious. The two will come closer in the absence of Leonard. However, the chance of them getting romantically linked is almost zilch.
Some Memorable Moments between Sheldon and Penny:
In Episode 11 of Season 2 of "The Big Bang Theory": Sheldon awkwardly hugs Penny after she gives him a napkin as a Christmas present. It is no ordinary napkin. "To Sheldon, live long and prosper, Leonard Nimoy" is inscribed on it. Leonard Nimoy is the American actor who is best known for his role as Spock in the original Star Trek, and it is no surprise that Sheldon is a big Star Trek fan.
"I possess the DNA of Leonard Nimoy," Sheldon sequels when he comes to know that the Star Trek actor has wiped his mouth with the napkin.
In Episode 15 of Season 3 of "The Big Bang Theory": Sheldon hugs Penny when she lets him go to Switzerland, with Leonard, who had received an offer to visit the European country to see CERN's Large Hadron Collider. Sheldon says at the time, "Since I rarely hug, I'm relying on your expertise regarding duration."
In Episode 8 of Season 3 of "The Big Bang Theory": Penny slipped in the shower and dislocated her shoulder. Sheldon helps a drugged Penny get into the bed. He tucks her into the bed and sings "soft kitty, warm kitty, little ball of fur ..."
In Episode 10 Season 3 of "The Big Bang Theory": Sheldon steps in Penny's apartment and asks, "If you would like to go on a date, with me." Penny sees through him and points out that he intends to make Amy jealous. In the scene: "The way you call me sweetie all the time": Sheldon says and Penny replies: "I call everyone sweetie."
"You tramp."
To contact the editor, e-mail: