While fans and parents are in an uproar about Miley Cyrus' recent performance on the MTV Video Music Awards, calling it "raunchy", "wild", "cheap" and "no class" among others, the star has decided to move on, and is showing it too!
While tongues are still clucking around calling for parents to be more cautious on who their children should idolize, Miley Cyrus is sending a strong message. She does not care and she "can't stop". Won't stop is more like it. Good or bad, the world can only sit back and watch the previous Disney star shed more and more her child-star persona.
Miley went to twitter to share what she thought of her own performance on the VMA. She shared Rolling Stone's assessment of her gig, apparently she agreed - "Miley was the one star in the room who truly understood what the MTV Video Music Awards are all about!"
From there, she began tweeting new photos of herself in poses that would probably start a new bout of wagging tongues again. These photos are all showing her ... backside. The Disney star surely loves showing that part of her body. We agree it's one of her assets, but does she need to show it all the time?
The first picture she posted shows her squatting in a red, white and black Michael Jordan Chicago Bulls shorts and bikini bra top.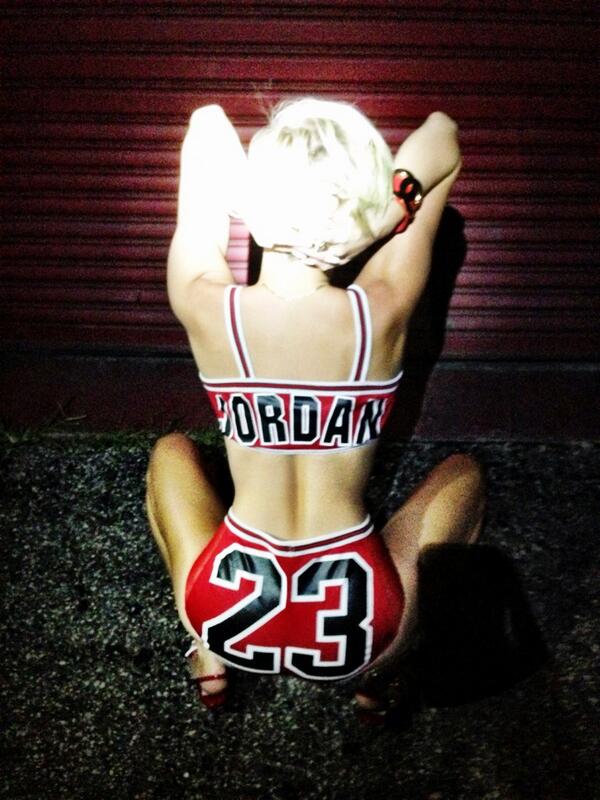 The second picture shows her in a locker room, wearing a thong over white bike pants and the red top. This photo has the caption of: "#23 #youcanthangwithus #boyslockerroom"
Parents may question Miley Cyrus' head at this time, but we certainly cannot find fault on her marketing skills. Cyrus' risqué performance pushed her new album Bangerz, up the ranks on retailer's top sellers tally. Guess "We Can't Stop" supporting her antics too.
To contact the editor, e-mail: