'The Big Bang Theory' will return for it seventh season this fall in September and the production on Season 7 has begun. Executive Producer Bill Prady tweeted "Production on Season 7 of #BigBangTheory has begun!" and posted this image: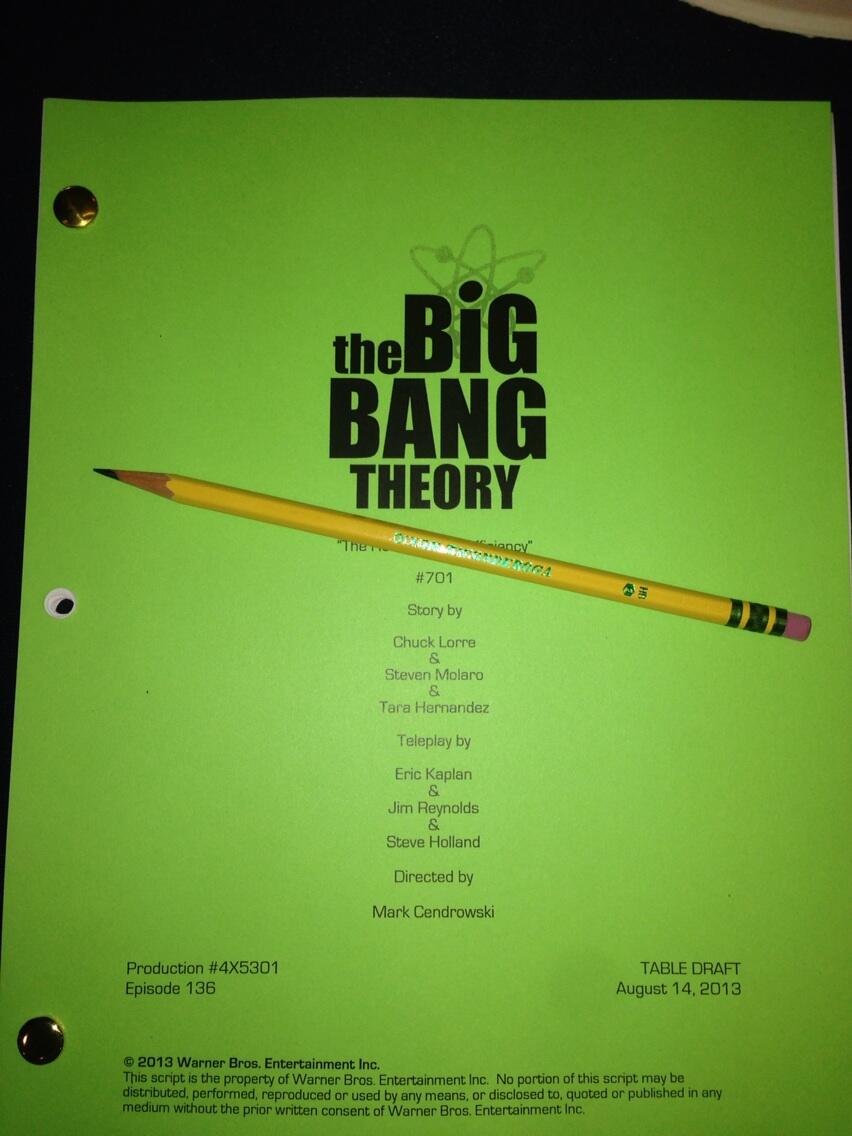 Leonard (Johnny Galecki) going to the North Sea on an expedition for Stephen Hawking and a loquacious Raj (Kunal Nayyar) in front of three women without a glass of drink were two of the major highlights of season 6 finale. Sheldon (Jim Parsons) tried all his quirky tricks to dissuade Leonard from going to the North Sea, out of fear of being alone and out of jealousy.
Since Leonard is going to be at the sea for nearly four months, Penny (Kaley Cuoco) now has the responsibility of keeping an eye on Sheldon. These two are going to come closer, though not romantically.
Steve Molaro, writer and executive producer, told The Hollywood Reporter that both Sheldon and Penny miss Leonard and in the new season of The Big Bang Theory, the two will be "spending some quality time together and getting closer than ever."
"She (Penny) is like the big sister who is taking care of him (Sheldon) -- or sort of a mother figure," he said. It is hard to imagine any kind of man and woman romance between Penny and Sheldon after reading this.
"... he (Sheldon) has got a special spot in his heart for Penny because he knows he can count on her and she's on his side."
Amy (Mayim Bialik) and Bernadette (Melissa Rauch) will be going on a trip, together. This is the first time that Penny has been excluded from the plans. Despite his new found ability to speak to women without alcohol, Raj isn't going to transform into a new person and become a player.
The cast of The Big Bang Theory shared their wish list with The Hollywood Reporter:
Mayim wishes to do a scene with Howard (Simon Helberg). She said to The Hollywood Reporter, "He's the only person that I haven't had my own scene with, and I'm obsessed with him. That's the only actor I haven't had a single, isolated scene with. I'm really hoping for that."
"Mayim's wish is going to come true: We are working on a scene between Amy and Howard," Chuck Lorre said to The Hollywood Reporter.
Kunal loved working with Kate Micucci and wants her back in the new season. In Season 6 of The Big Bang Theory, Kate played the role of Lucy, a character with a lot of social phobias. "Theirs is a really wonderful relationship. She's so good and talented and just a wonderful human being and a great addition to have on set," Raj said.
"I'm a big Kate fan, so I have to jump on Kunal's bandwagon. I love Micucci, so more Micucci!," Melissa added.
"We're still figuring everything out (about whether Kate will return), but we love Kate and we would certainly love to see her again at some point when the time is right," Molaro said.
To contact the editor, e-mail:
Close
(Photo: CBS/Big Bang Theory / )