Recap: Our target of 80 pips was missed by only a few pips as our short was triggered at 1.2267 on the 14:00 break of support. Price got down to 1.2188 before trailing back up and hitting our tightened SL for 50 pips. On a miss by only a few pips there is no need to keep a big SL!
We are bearish on the pair again today as Bernanke said nothing in his testimony that sound risk-positive - except for his commitment to again do whatever is necessary to keep the economy on track (implicit backing).
Fundamentally that leaves the downside with more gravity. The only technical question for us is whether we'll see a short squeeze before a drop.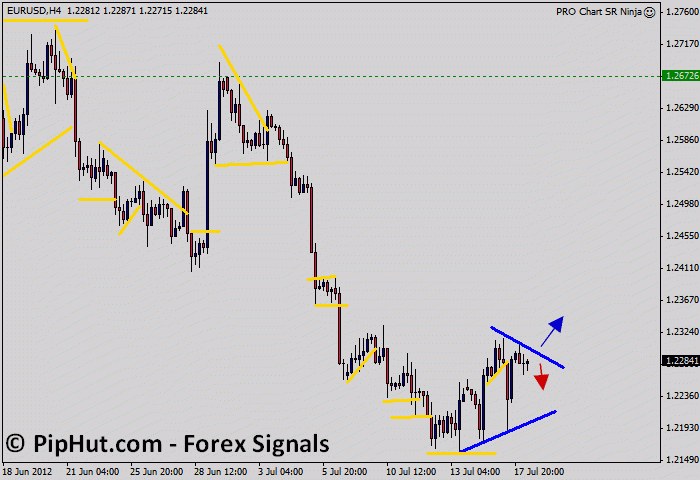 Today's Important News Events:
Date
Time (UTC)
Event
Forecast
Previous
Wed
Jul 18
08:30
GBP Bank of England Minutes






08:30
GBP Jobless Claims Change (JUN)
5.0K
6.9K






14:00
USD Fed's Bernanke Gives Semiannual Report to U.S. House






18:00
USD Fed Releases Beige Book Economic Survey






*To see a more extensive list of news events (not just those we consider important), visit our Forex Calendar.


Trading Idea: Despite our bearish bias we will continue to trade what the technicals give us and right now that is a falling resistance that we will look to long on a resistance break with targets at 20/20/20/20 for 80 pips.
We will look to close and get short on a support break if one forms after the resistance break.