It looks like just every lovely lady in Hollywood is on the cover of a highly-acclaimed magazine. Of course, Amanda Seyfried isn't one to be left out. The blonde beauty graces the cover of Glamour magazine and she definitely looks glamorous.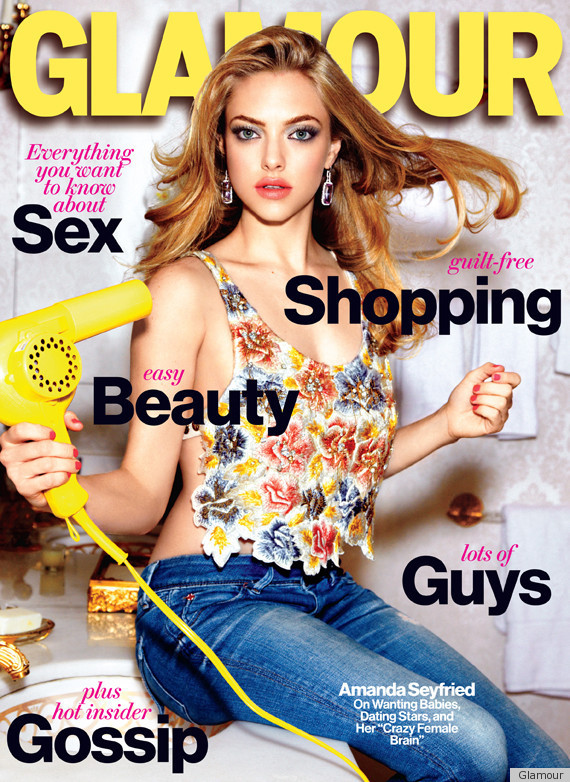 Amanda Seyfried for Glamour Magazine. Courtesy of Glamour
The 26-year old actress open up about life, love, getting kids and her latest film, "Linda Lovelace." Though a few would still openly agree that Lindsay Lohan was far more suited in playing the provocative role, Amanda proves to be quite talented herself with a few box office films herself.
Amanda Seyfried rocked the cover of the magazine in a Pierre Balmain floral top paired with Hudson curve-hugging jeans. By the looks of how the March issue of Elle, it appears as if they've debuted an all-new look for 2012. They topped it off pretty well with doll-faced, Amanda, on the cover with the words "Gossip", "Shopping" and "Sex" surrounding her stunning silhouette.
Apart from a few jaw-dropping photos included in the magazine, Amanda opens up a bit more about her views on sex and love. Surprisingly, she also mentions her last ex-boyfriend, Dominic Cooper, of whom she claimed to have a real connection with.
"My God, yeah. He was my last real boyfriend. We still joke about having kids, like, 'If it doesn't work out with other people, we might as well just have a child.' And there's a part of that that feels...possible," says Amanda.
So now that she's single and quite appealing to the mass of Hollywood hunks, the big question is why hasn't she been spotted with a new boy candy in tow?
Her role as the provocative porn star, Linda Lovelace, sure would have rubbed on her, wouldn't it? Apparently, Amanda has higher principles than simply strutting around with a few different men in Hollywood.
"No! I'm terrified of being promiscuous. I don't like the feeling you get when it's not something that you truly want to do, and I hate the emotional abuse you give yourself afterward. It's just uncomfortable when you're with somebody and you're like, 'I don't really know if I'm even comfortable with this. Why did I? Eww!' I think dating can come without sex," shared Amanda.
The "Mamma Mia" star has got her head right in the game and when it comes to what she'd advice to her fans on dating, well it's simply to be careful.
"You learn very quickly what people are so enamored with, and it's not necessarily me. ... I think it's all the bullshit of the idea of someone who's famous, which seems more exotic than the fact. You have to be careful whom you date," says Seyfried.